Becoming a freelance journalist is the most lucrative, productive and fun way to be creative in 2022. Here are 5 steps that you can take today to start your freelance journey.
Becoming a freelance writer in 2022 is easier than you think. Follow these 5 simple steps to become a freelancer in the next few years. Read more in detail here: how to become a freelance writer with no experience.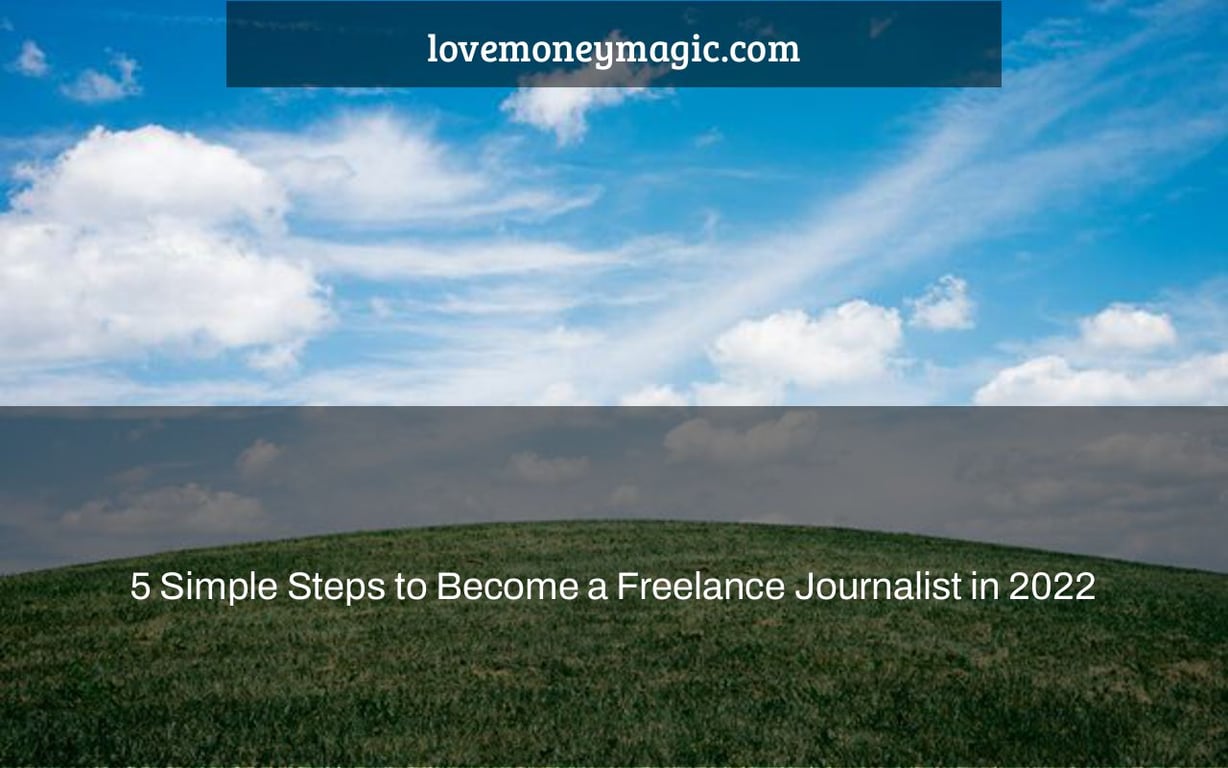 Journalism is a fast-paced field that is certainly one of the most in-demand professions. In a culture where people want to know what's going on in their own nation and throughout the globe, freelance journalists may fill that need in a variety of ways.
As a freelance journalist, your goal is to keep up with the current news and write about it in any manner you can. A story has several perspectives, and it's your job to bring those perspectives to light so that people may make educated judgments.
Journalism is challenging yet rewarding. Learning how to become a freelance journalist might be the next big thing for you if you want to be a part of the change in our world by finding the truth. Make a difference in the world now by capturing the attention of people via your writing.
The Most Popular Money-Making Opportunities
Opinion Outpost – A reputable survey service that pays out in Amazon gift cards or cash to its subscribers.
InboxDollars – Join a site that pays you to play games, explore the web, answer polls, and complete paid offers and surveys and get a $5 welcome bonus.
Swagbucks – A fun rewards program that pays you with cash or free gift cards for doing activities online that you already do.
Instacart – Earn up to $20 per hour shopping for and delivering groceries on your own time (while keeping 100% of your tips!).
What is the definition of a freelance journalist?
A freelance journalist is someone who works for magazines, newspapers, and other web and print media for a fee. This individual is not employed by any news organization, newspaper, or other kind of media. Rather, they are hired to accomplish a task or finish an assignment for which they are compensated.
A freelance journalist, like a freelance writer, may work their own hours and determine their own fees. It is their responsibility to locate customers in order to get compensated for their services.
Is a License Required for a Freelance Journalist?
As a freelance journalist, you are currently not required to acquire a license. In actuality, you may wake up one day and decide to pursue a career as a freelance writer. Keep in mind, though, that certain customers may inquire about your credentials as a writer, including your schooling and experience.
Moms' Best Home-Based Business Ideas
Other Qualifications and Requirements for Freelance Journalists
To work as a freelance journalist, no particular qualifications are required. Your credentials are determined by your prior work experience. You have the chance to market your service to the customer, and they may choose whether or not to accept you.
You must be trustworthy, a go-getter, have a solid command of the English language, and be able to meet deadlines to have the greatest chance of becoming a freelance journalist.
These are the essential prerequisites that every customer will look for when determining whether or not to work with a freelance writer. The more you can demonstrate that you have these fundamental credentials, the more likely you are to gain customers.
Pay Expectations for Freelance Journalists
A freelance journalist earns a lot of money, according to ZipRecruiter. According to reports, the national yearly average is $60,119, or $5,000 per month. Salaries have been reported as high as $143,000 and as low as $16,500. The compensation you may earn will be determined by your experience, where you reside, and how many jobs you take at once.
Related: How to Work From Home as a Proofreader
How to Become a Freelance Journalist in 4 Easy Steps
Learn how to become a freelance journalist by following the steps outlined here. These steps are supposed to get you started, but it's up to you to figure out how you'll keep your writing success going.
1. Pick a Journalism Specialization
Journalism is divided into various categories. It's critical that you decide the specialty you wish to pursue. Consider if sports journalism, tabloid journalism, developmental journalism, or anything else interests you. What are your areas of interest?
This is crucial to find out early on so that you are enthusiastic about the tales you are pursuing. If you don't care about the issues at hand, writing about them in a passionate, informed manner will be tough, and this will show in your writing.
Keep in mind that you might have several interests. However, writing on a specialized issue will help you establish credibility. If you want to, you may branch out into other areas afterwards.
How to Become a Marketing Coordinator is a related article.
2. Increase Your Learning Capacity
It's usually a good idea to know something about the job you're applying for. Consider attending some free or low-cost classes to obtain a better understanding of what newspaper writing entails.
Bob Woodward, a two-time Pulitzer Prize winner, best-selling author, and investigative journalist, has created an excellent series for Masterclass. Woodward teaches you to research, interview, and write news-style pieces like a professional journalist throughout the self-paced course.
3. Submit an internship application
Interning at a famous local publication is one of the finest methods to obtain practical experience as a writer. Request information about internship opportunities from local magazines. If none exist, try trading your services for real-world experience, comments, and credentials.
Internships may be available in media firms such as newspapers or magazines, marketing or advertising agencies, and social media or podcasts. While it's better to obtain experience in the industry you want to go into, there are lots of related lines that can teach you the fundamentals of journalism.
4. Find out who is hiring and apply for the position.
Find out who is recruiting freelance journalists on employment networks like FlexJobs. To discover work leads, use social media. Join Facebook communities dedicated to freelance writing and journalism. To get your name out there and learn from others, you may join professional journalistic clubs.
Look for jobs that meet your interests. To prove your trustworthiness, use your experience and whatever education you have. Remember that receiving a response to your application might take up to two weeks.
You may also send cold pitches to companies to offer them your services. This indicates that they are not actively recruiting, but you may still let them know that you are available. Some companies may not have considered employing a freelance journalist and will value having someone to contact.
It's a numbers game sending cold pitches to obtain more customers. You may make hundreds of cold pitches before receiving a response. But don't surrender! Only one company needs to accept your offer and employ you to begin your career.
Related: How to Make Money Reading
5. Promote Yourself
Create a portfolio and prepare to sell your services to prospective customers. You may utilize social media to advertise what kind of writer you are and what talents you possess. Use your social media profiles to engage with people and build connections so that if they ever need a freelance writer, you will be the first person they think of.
Also, inform your friends and family about the new services you're providing. They may suggest you to others who are seeking for your expertise.
Related: What Are the Best Jobs for Stay-at-Home Moms?
New Freelance Journalists Have a Few Questions
Learn what other new journalists are asking to have a better idea of how to become a freelance journalist.
Is it challenging to work as a journalist?
Journalism is a difficult profession. To grasp the narrative, you almost have to have a love for it. Clients will appreciate your additional effort and will most likely employ you for future assignments based on your outstanding performance.
As a journalist, you may encounter several circumstances in which things might turn hazardous, depending on the topic you are covering. For your own protection, you must know where to draw the line in terms of professionalism and ethics.
Work From Home Jobs That Hire Right Away
Is freelance journalism a viable profession?
"Good" is a subjective word. Your definition of a successful career will be different from someone else's. However, if you are prepared to commit yourself to become the greatest writer you can be, a career in journalism may be rewarding. If you expect this business to earn you a lot of money with no work on your side, it is not the right vocation for you.
Is there a demand for journalists?
Journalism jobs are likely to rise over the next decade, according to the Bureau of Labor Statistics. There is always a need to keep up with fresh news that come out every day. Don't miss out on your chance to join in the fun.
Is it tough to work in journalism?
This work may or may not be demanding for you, depending on your personality and ability to manage pressure. If you are quickly overwhelmed, this may not be the right job for you. It all comes down to your personality. 
Journalism is not a career where you can simply make up stories and publish them. In addition to research, you must do several fact checks. The position comes with a long list of responsibilities. You will be successful if you can remain on top of your responsibilities.
How to Become a Content Creator is Related
What is the most lucrative journalistic position?
Public relations management is presently the highest-paying journalistic position, according to The Best Schools. It's a job that requires a unique blend of journalism and management talents in order to enhance a brand's image via press releases, interviews, and sponsorships.
How to Get Paid to Go to School is Related
Who Should Consider Working as a Freelance Journalist?
Freelancing is a difficult task. It is up to you to locate job, which also implies that you must constantly advertise yourself in order to earn a continuous income. On top of that, you'll be doing journalism, which means you'll need to be dependable and dedicated to the work.
Freelance journalism is not a vocation for the faint of heart. This is the appropriate job for you if you have what it takes to start a new trip and see it through to completion. Don't allow fear stop you from trying something new and expanding your understanding of journalism.
Share your tales with the public, bring the truth to light, and use your story to make a difference in our society. Learning how to work as a freelance journalist might be the life-changing experience you've been looking for.
Related: How to Create a Profitable Blog
The "freelance writer salary" is one of the most sought after professions in today's society. The average freelance journalist makes $30,000 a year. This profession has been around for over 3,000 years and will still be around in 2022.
Related Tags
how to become a freelance writer and get paid
how long does it take to become a freelance writer
freelance writing jobs
how to be a freelance writer as a teenager
how to become a freelance writer reddit